What is Open Up The Cloud? What does it stand for? How did Open Up The Cloud start? And what are the plans for the future? Read on to find out! 
What Is Open Up The Cloud?
Open Up The Cloud helps you get your start and grow your career in cloud—through content, like blogs on openupthecloud.com, YouTube and social media like Twitter and Instagram and via community. Open Up The Cloud is founded on principles of transparency, openness, and inclusion. As a social enterprise, Open Up The Cloud shows how business can be a sustainable force for good, and not simply profit-at-all-costs. With your support, we can bring the cloud to every corner of the world. Together, we can #openupthecloud.
Thank you for being a part of it!
What are Open Up The Cloud's values?
The values that drive the work that Open Up The Cloud does. These values are reflected in our work, how we talk with others, and how we conduct ourselves.
Precise — We validate our opinions with data.
Direct — We aren't vague. Strong, simple recommendations.
Structured — We give learning paths and guidance.
Transparent — We are open, honest and vulnerable.
Community-driven — We point to existing work, we don't build ivory towers
Curious — We are curious. We are not stuck in the past.
Supportive — We help others sustainably. We take care, but we don't caretake.
Foundational  — We focus on tried-and-true over latest-and-greatest.
How did Open Up The Cloud start?
Hey 👋 I'm Lou, the creator of Open Up The Cloud —a Software Engineer for over 10 years, currently working as a Product Manager in developer tooling, with a passion for teaching others. But, you can read more about me here. Let me catch you up on the background, and how Open Up The Cloud came to be !
Open Up The Cloud started off as a tech blog (originally called "The Dev Coach"). After I struggled to find content about cloud, for my own careeer, I began writing about cloud careers myself (articles like: Where (And How) to Start Learning AWS as a Beginner). Before I knew it, the articles and blog started blowing up. My work even outranked the main AWS site!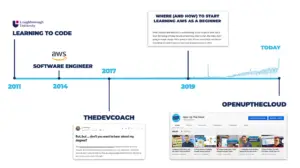 Over time I began to receive more, and more messages and questions about how to get into the cloud industry, "Do I need to learn to Code?", "Should I become a Solutions Architect?", "What certification should I take?". I soon became very aware of how thousands of people on the internet were now taking my career advise, and taking potentially life-changing decisions (amazing!).
Acknowledging this newfound responsibility, and with a sense of duty to do what was right. I started taking Open Up The Cloud more seriously. I became thorough with my data and research, and I started to leverage experts in the community to validate any opinions and remove any personal bias. I soon created a code of ethics to operate under. Ultimately, I started to care more that Open Up The Cloud is factual and precise, rather than "popular".
Realising the shifting landscape of online content, I started to move my content into video format on YouTube. Longer form video affords a great way to teach the cloud careers content that Open Up The Cloud has become known for. Open Up The Cloud is now on a mission to provide high-quality, honest and unbiased information about cloud careers. But, it's only just the beginning!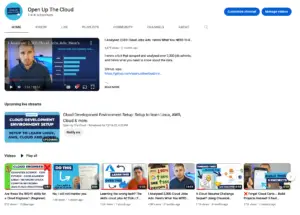 Going forward, the plan is to grow via the community. Together, we will create local chapters and meetups, produce more free and structured online education, so that opportunities in cloud reach all corners of the globe, and become universally accessible, with no compromise, no barriers, and no gatekeeping.
Education should be free and accessible to anyone willing to use it to change their life for themselves, their family and their community around them.
I love to connect with the community of Open Up The Cloud on Instagram, and Twitter, so please do come and hang out! From humble beginnings, Open Up The Cloud is now a content platform and community to help you to get your start and grow your career in cloud! As I like to say to the many people that I mentor "I look forward to sharing your 'I got the job!' post!"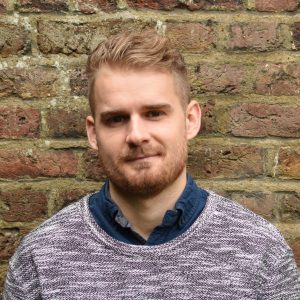 — Lou (@loujaybee)